Move In Cleaning Services in Boston, Ma
📦 Boston Moving In Cleaning Services
Our move in cleaning services are extremely thorough, designed to prepare a home for a new tenant. Houses and apartments can gather years of dust & grime left behind by previous tenants. We will clean and sanitize every spot and give you a stress-free move in to your new home.
✅ Our team will ensure you get a sanitary living environment from day one!
Take advantage of your empty space and let us clean your pad from top-to-bottom. When moving in to your new place, before unloading the furniture, it is very essential to get your moving cleaning to ensure every nook and corner of the home is covered.
🥇 #1 Move-In Cleaners in Boston Ma
Whether you are a realtor, property manager or a new homeowner of a home that is getting ready to move in/out, you know the importance of a house that is clean, fresh and sanitize. While the home may appear clean, hidden dust and germs may linger.
📦 Just move in into a new home?
Call Onix Cleaning Services, we will perform a deep Move In cleaning to sanitize your new home.
It is a great idea to get it really clean before you move in all the furniture and boxes.
Going away or starting new? We got you covered with both solutions.
🧹 Leaving clean and starting clean 🛀
✨ With our move in cleaning, you won't see a trace of the previous tenants!
🚚 Reliable Moving Cleaning in Boston Ma​
No Contracts
Cancel Anytime
🧼 Get a Deep Move-In Cleaning Service in Boston, Ma
In this article, we're focused on this very issue. Because, let's face it, moving is a blur, and a lot of cleaning tasks can be forgotten. We're here to help you understand why you should prioritize a move-in clean, and the various benefits it can provide to you. We're going to help you understand why this is such a necessary task when moving into a new place.
🔄 We're Here for You!
When moving into your new place, before unloading the furniture, it is very essential to get your move-in cleaning done to ensure that every nook and cranny of the home is covered. Call Onix Cleaning Services, and our cleaning team will perform a deep move-In cleaning to sanitize your new home! We offer our services in downtown Boston and the greater Boston area, and would be happy to work with you for all for house cleaning needs!
But if you still need more convincing, read on to learn about all the benefits that a move-in clean can provide.
☑️ What Does a Move-In Clean Entail?
A "move-in clean" can actually be a pretty complicated task! In simplest terms, it's exactly what it sounds like. It's a deep clean of a living space before a new tenant moves in. But if you've ever had to move into a new place, you know how much work might need to be done! There are so many aspects to a comprehensive home cleaning – there's hardwood floor or carpet cleaning, to taking care of the kitchen and appliances, to the bathroom, and much more! It's an awful lot of work, and it comes at a time that's already very busy.
A professional cleaner will help to alleviate these worries and tailor their approach to exactly what your new place needs. They'll evaluate the space, and do everything that needs to be done. In the next section, we're going to evaluate all the benefits of using a home cleaning service before you move in.
🥰 Benefits of a Move-In Clean
If you're still not convinced, then allow us to elaborate. In this section, we're examining all of the benefits of a comprehensive move-in deep clean. We want to help you understand whether this service is right for you. After all, it's not worthwhile if it doesn't address your needs.
✨ Professional, Thorough Clean
Let's start with the most straight-forward benefit. A move-in clean gives you a professional level, high-quality clean. A professional cleaning crew simply knows what tools to use, and which areas to focus on to perform an excellent job. You are relying on the benefits of their expertise, and a reputable cleaner will leave your cleaning space tidy, sanitary, and organized.
🦠 Make House Sanitary and Liveable
When it comes to cleaning, it's more than just tidying up and getting rid of the surface-level mess. It's deeper than that, because you want to ensure you're moving into a clean home.
A professional deep-clean addresses issues that may not be so evident just by looking at them. Issues such as bacteria, dust mites, mildew, allergens, and various other substances that are harmful and may build over time.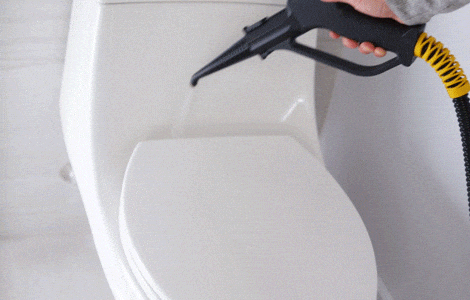 It's important to address these issues from the outset. The fact is that these issues only compound, so if you don't deal with them when you move in, they will only get worse as you add your own mess into the equation. A move-in clean clears your mind of these issues, and makes sure that you are entering your new place with peace of mind!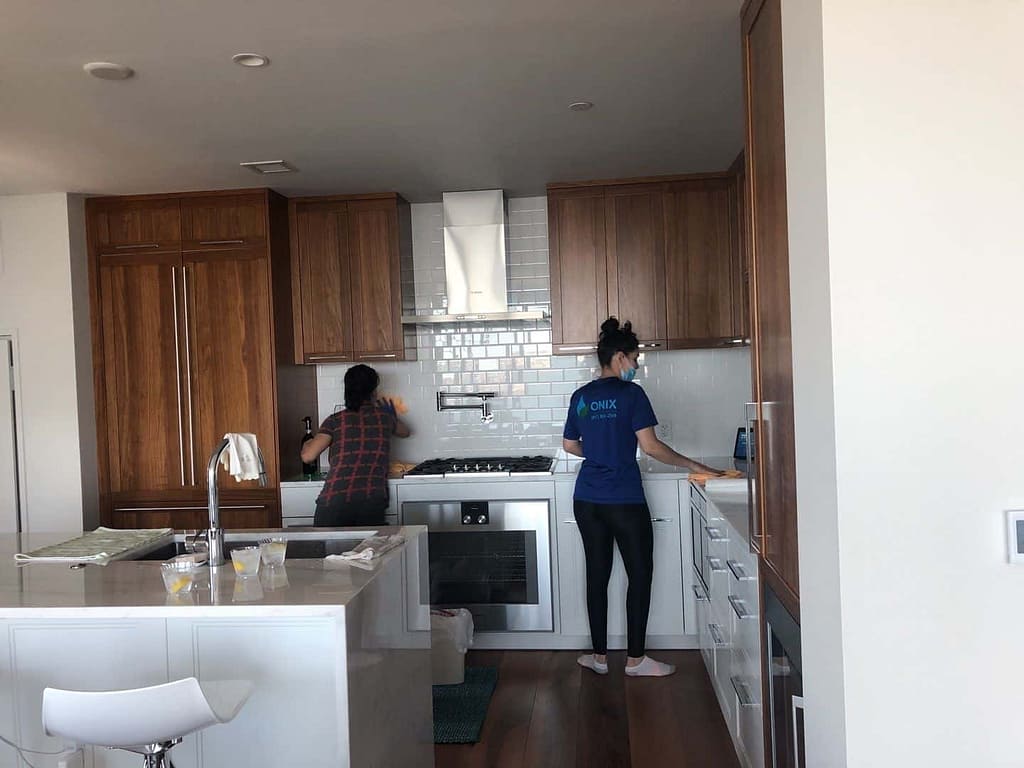 🔍 Find "Hidden" Mess
A unique aspect of a move-in clean is that you didn't make the mess! The previous tenants made the mess. This also means that you might not know where the mess is located. There are so many nooks and crannies in a house that it can be hard to find everything. Thus, there might be issues you are unable to locate.
Professional cleaners know the tricks. They know where mess develops, they know how to find it, and they know the best ways to clean it. After all, if you can't even find a mess, how can you be expected to clean it?
🤹‍♀️ You Have So Much Else Going On
Another reason that move-in cleans are so beneficial is that you are so busy with other things! Moving into a new house or apartment is an extremely busy time. From packing, to buying new appliances and furniture, to decorating, to moving everything in, and everything in between! There are so many things on your mind during this time that doing a deep-clean of your new place is the last thing you want to do.
You simply don't have the time, so you need to rely on the experience of professionals. It's a simple way to make this busy process a whole lot easier!
💰 Cost Savings
Above, we spoke about issues that can develop over time if you don't deal with them right away. If you don't identify problem areas from the outset, then they might develop into much more extensive problems down the line. Professional cleaners will examine the nooks and crannies, and deal with areas that need more attention. This might actually save you money in the long run, because you have now dealt with the small problem before it becomes a big problem!
For example, giving your cabinets and cupboards a thorough clean can help to eliminate things that might attract insects and rodents, which would eliminate the need to hire an exterminator if the problem develops.
🏠 Lastly A Blank Canvas
Finally, the last benefit of a move-in clean is that you simply won't get an opportunity like this again! The place is empty, spacious, and ready to clean. Soon, all your furniture will be moved in and it will be significantly more difficult to reach all the different corners of the house. You can take advantage of the last time you will have all this empty space by giving it a good clean!
Now that we've examined all the benefits of a thorough move-in clean, we thought we'd talk about ourselves a little bit! If you think a move-in clean is what you need, then you can rely on the extensive experience and expertise of Onix Cleaning Services! We are Boston's #1 choice for move-in cleaning.
We have the benefit of nearly two decade of hard-work, experience, and countless satisfied customers! Onix was started in 2002 by Maria DeSouza. It is a female-owned and operated professional cleaning services company. We work hard to ensure that you are satisfied, and we don't stop until the job is done.
📦 Our Move-In Cleaning Services
At Onix, we take great pride in everything we do, and our move-in cleaning services are no different! We work hard to ensure that the clean is tailored to your specific needs. We know that every house and apartment is different, and each move-in has various levels of mess and dirt which needs attending to.
If you need a move in cleaning service, we offer a service that is thorough and won't leave behind a trace, leaving a clean, blank slate for any new tenants. A deep cleaning using our cleaning services can get rid of years of grime and dust left behind by older tenants. We will clean and sanitize every spot and give you a stress-free move in to your new home. Basically, our professional expertise will identify exactly what you need, and we have the tools and the know-how to get the job done.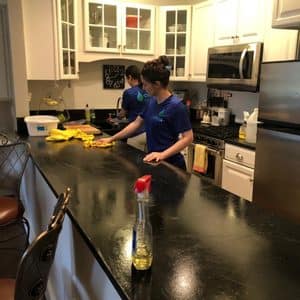 And that's it, your job is done! All you have to do is attend to your move, and rest easy knowing that your place will be clean and sanitary when you move in! We specialize in cleaning, but what we really specialize in is giving you the peace of mind that the job is taken care of.
Booking with Onix couldn't be easier! Click here to get started. All we need are a few details about your home or apartment, as well as what kind of clean you are looking for, and then we will schedule a time that is convenient for you.
If you have any other questions, or you aren't sure exactly what you will need, give us a call at 781-588-2198, or check out our other contact details here.
The whole process will be efficient, easy, and tailored exactly to your needs! Our team will ensure you get a sanitary living environment from day one!
We hope we have helped convince you of all the benefits of a move-in clean. At Onix, we want to let you know that we can help! We have a vast array of expertise within the Boston area. But beyond that, we simply want to do the best job for you! Whatever your move-in cleaning needs are, you can rely on us to identify them and address them.
We're intent on making your new house a home, and we'll take one of the major stresses out of an already stressful time!