Sanitation Services in Boston, Ma
🔥 Boston Sanitation Services
Sanitizing your home and keeping your house clean is a big task, but keeping it sanitary is another obstacle altogether! We all know about the benefits of cleaning for keeping your space visually appealing and tidy. But it's less common to think of cleaning as a method to keep your space safe and sanitary.
In this article, we're focusing on the benefits of steam cleaning for keeping a living space clean and sanitized. Sanitizing your space with a steam cleaner is highly effective in eliminating dangerous substances that can contribute to hazardous living conditions. Steam cleaning takes aim at bacteria, germs, mold, mildew, and more!
💧 Making our world a safer, healthier place!
📚 Read on to discover how steam cleaning can help you.
We can sanitize any surface instantly using nothing but regular tap water.
A simple pass with super-heated dry steam over appliances, sinks, furniture, floors, carpets, counter-tops, mattresses,  and toilets will kill 99% of bacteria and viruses.
🪴 Cleaning & Sanitation Services, The Eco-Friendly Way
We won't just clean. We will Sanitize, Disinfect, Degrease, Deodorize, and Refresh!
Now more than ever, maintaining a clean, hygienic, and sanitize place is a priority.
♨️ Upgrade Your Cleaning. Works On Any Surface.
Clean Anything, Anywhere, Faster!
No Contracts
Cancel Anytime
⚡ What is Steam Cleaning?
Before we get started, it helps to address what exactly steam cleaning actually is. A steam cleaner uses only water to get the job done! It heats the water past boiling to create steam and forces the steam through a pressurized opening to blast away dirt and grime. The undesirable substances are collected (generally with a microfiber cloth).
Steam cleaning is touted for its superior deep cleaning capabilities. Simply put, steam can reach areas that other cleaning methods can't. The steam actually penetrates deep into various surfaces, fabrics, and carpets, and pries dirt loose. The high temperature also works to kill various bacteria, germs, dust mites, and more.
To learn more about the advantages of sanitizing your house with the power of steam, let's check out the full range of benefits:
♨️ Benefits of Sanitizing a House with Steam
♻️ Environmentally Conscious
One of the main reasons that many prefer sanitizing with steam is that it doesn't rely on harsh chemicals which may harm the environment. 
Steam cleaners can work with the power of tap water only! 
This makes them a superior option for the environment. No more reliance on hazardous cleaning chemicals to sanitize a space. The hot steam can efficiently deep clean an area and kill germs and bacteria.
Additionally, although steam cleaning uses water, it actually still uses less water than you would use on a typical clean. Steam cleaning uses up to 80% less water than other regular cleaning methods, and doesn't pollute our waste water with chemicals!
Aside from not harming the environment, steam cleaning eliminates the need to rely on chemicals that may harm you. Many sanitizing products rely on harsh chemicals to kill germs and bacteria. Not only can these substances be unnecessarily harsh on your various surfaces (counters, carpets, etc.), it is actually a bit counterintuitive – since you are actually relying on harsh chemicals to "sanitize" a space.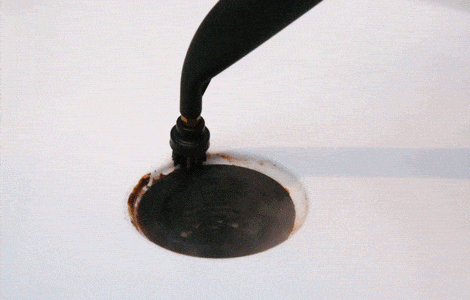 There is sometimes a tendency to think of "environmentally friendly" options as being less effective than traditional options. This is not the case with steam cleaning!
A steam cleaner provides a deep, powerful, and thoroughly clean.
The steam penetrates deep into surfaces and pries loose what can't be reached with other cleaning equipment. You don't have to make the trade-off between the environment and effectiveness, a steam cleaner works both ways!
Another benefit of professional cleaning is that it frees up time for you to do other things! You're busy – you have things to do, and deadlines to meet! You don't have time to clean and sanitize your house on your own, which is why so many rely on professional cleaners.
Having someone professionally clean your home eliminates the stress and commitment that comes with routine household maintenance. 
Whether you need a deep-clean, a standard clean, or a regularly scheduled touch-up, a professional cleaner works around your schedule, and around your needs!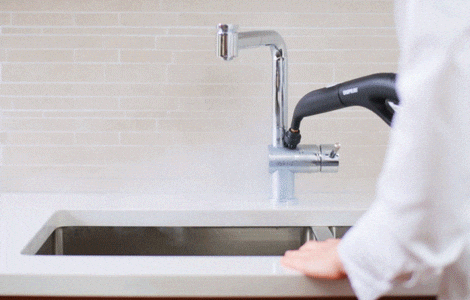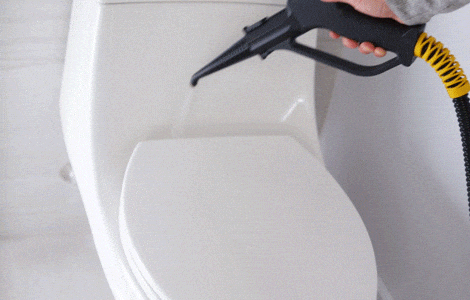 💰 Cost-Efficient
Owning a steam cleaner is expensive. Especially given that you don't really need to steam clean your house on a regular basis. It isn't often worth the investment to buy a steam cleaner of your own, which is why so many will hire a professional when they need the job done. If you want an occasional deep-clean steam sanitization, then it might be more cost effective to hire a professional than to do it yourself.
Professionals already have the equipment, and they use it often, which passes these savings onto you!
⚙️ Complexities of the Machine
Professionals know how to use the equipment. A steam cleaner isn't just something you can pick up and use. The intensity and temperature need to be adjusted for different surfaces, and there are different techniques which apply to different cleaning jobs.
Additionally, certain areas of your house are NOT suitable for a steam cleaner. A professional already knows these ins-and-outs, and they will be sure to steam clean your house in a safe way, achieving a thorough clean without the risk of any damage. 
Hopefully, we've sold you on the benefits of steam cleaning, both for the environment and for you! If you're still with us, allow us to talk about ourselves for a little bit.
We have grown an extensive clientele due to our extensive experience and attention to detail. We tailor each job to you. We offer a wide range of cleaning services and will work hard to ensure that we base every job around your schedule. 
Onix is a fully licensed, bonded, and insured cleaning service with almost two decades of experience proudly serving the Boston area!
At Onix, we take great pride in our steam cleaning and sanitation services. Like everything we do, we have extensive experience in this area, and we have the satisfied customers to prove it. We combine our wealth of experience with meticulous attention to detail, and we know how to adapt each steam cleaning job to each living space. We know how to clean all surfaces, and we know how to adapt the machine to each job.
🌎 Cleaning & Sanitation, The Eco-Friendly Way
We can sanitize any surface instantly using nothing but regular tap water! A simple pass with super-heated dry steam over appliances, sinks, furniture, floors, carpets, counter-tops, mattresses, and toilets will kill 99% of bacteria and viruses.
So not only are you left with a comprehensive clean, but you are left with a comprehensive sanitization of all surfaces in your home!
Rest easy knowing that there aren't any harmful substances growing in your house. We deal with these problems before they become a bigger issue!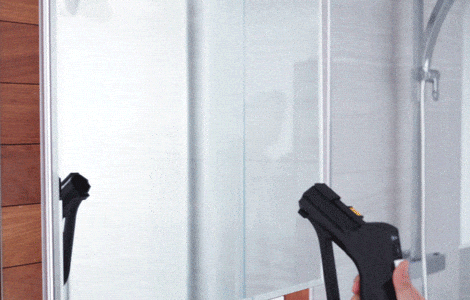 Upgrade your cleaning and experience sparkling results with our steam cleaning services. The most simple and efficient solution for chemical-free cleaning! 
🧭 Where Can We Help Around the House? 
You might be surprised at all the areas it can actually clean. Onix can help in so many areas around your house. We can use the power of steam to deep clean and sanitize all throughout your living space.
Steam cleaning is a highly versatile application.
Check out all the places that you can eliminate germs and undesirable viruses, bacteria, mold, and mildew with super-heated steam cleaning:
Sanitize Bathrooms – Clean and sanitize bathrooms, disinfect toilets, clean showers, remove soap and mineral residue.
Sanitize kitchen – Clean and degrease kitchen equipment, ovens, fridges, sinks, counter-tops. Perfect for home, businesses and restaurants.
Sanitize Floors – Clean and disinfect hardwood floors, ceramic tiles, carpets, porous stones, linoleum and, deep clean grouts lines and tiles to restore their shine.
Sanitize & deodorize furniture – Steam clean furniture, chairs, delicate upholstery, leather, remove stains and odors.
Sanitize & clean glass – Clean glass streak-free, clear windows, shower doors, mirrors, screens, ledges all chemical-free.
As you can see, there are many surfaces and areas that can benefit from a steam clean, and this is only the start of the list! Steam Cleaning is the optimal solution for getting and keeping a germ-free place! 
📅 Book Now - Upgrade Your Cleaning.
If you like what you hear, we'd love to hear from you! Booking with Onix couldn't be easier.
Simply click here and give us a few details on your living space, your cleaning requirements, and your schedule! Then, you're ready to go!
♨️Works On Any Surface.
💧 Clean Anything, Anywhere, Faster! 
 At Onix, we build our jobs around you. We examine your space, and give it the proper clean that it deserves. We won't rest until you are satisfied. Because, at the end of the day, that's all the matters to us!
And if you don't need a steam clean, we offer all sorts of cleaning services! We do standard cleaning, recurring cleaning, deep cleans, and one-time clean for any number of events (move-in, open-house, and more!). There's more, but you can check out all our service offerings here.
 Thanks for checking out our detailed guide to steam-cleaning sanitizing! We know you have a choice when it comes to cleaning services, and we appreciate you considering us.
We hope we have sold you on the benefits of steam cleaning, and we would love to hear from you if you would like to learn more.
We structure all our cleaning activities around your needs, and we'd love to work with you to figure out the perfect solution for your living space.