Penthouse Cleaning Services in Boston, Ma
🏙️ Boston Penthouse Cleaning Service
Professional Cleaning Company
Come home to a spotless apartment and you don't have to lift a finger! Our comprehensive cleaning services can be tailored to meet your needs. Our staff is highly trained, professional, dependable, and courteous. Book Now Your Professional Cleaning Service Online!
Apartment Cleaning in Boston Ma
If you need every inch of your home brilliantly scrubbed, polished, and sanitized, we are the right house cleaning service for you. Our cleaners have what it takes. Whether you are moving in or out. Did you know we are the preferred vendor for many realtors, homeowners & renters?
🌆 Boston Apartment Cleaning Services
Boston Local Apartment Cleaners
Whether it is owned or rented. A cleaned apartment gives a great feeling when it is de-cluttered, cleaned & organized on a regular basis. You don't have to own the place to keep it clean. A majority of people are working professionals, with no time to spare for housekeeping. Book your Cleaning Today!
Penthouse Cleaning Services in Boston, Ma
If you dream of walking into an immaculate home without taking the time or effort. Onix Cleaning is ready to help. With our regular standard house & apartment cleaning service, we provide you with an outstanding cleaning job at an affordable price for Boston Ma and the surrounding Area!
👨‍👩‍👧 Why Onix Cleaning?
Onix cleaning is well known within the most luxurious buildings in Boston. From Midtown, Back Bay, Beacon Hill, South Boston and Seaport District Area.
No Contracts
Cancel Anytime
✨ Penthouse Cleaning Services in Boston, Ma
With Onix Cleaning Services, you can enjoy the feeling of coming home to a spotless penthouse apartment every single day. Best of all, once you have scheduled our cleaning services, you will not have to lift another finger.
Downtown Boston, Ma
We work with penthouse owners and renters in downtown Boston and the greater Boston area to create the perfect cleaning arrangement for their needs. We make sure we tailor each cleaning plan to the exact layout and requests of our clients. We also understand how important it is to adhere to a budget, so we make an effort to offer affordable cleaning services.
Our comprehensive cleaning services can be tailored to the specific requirements penthouse owners have. We provide a convenient cleaning system that will make sure your penthouse apartment is clean and tidy, from the bedroom to the kitchen.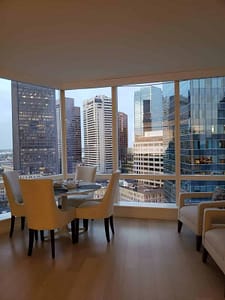 ✅ Why You Should Choose Onix Cleaning Services for Your Penthouse
If you need every inch of your penthouse scrubbed, polished and sanitized, we are the right cleaning service for the job. Our professional cleaning teams have years of experience cleaning apartments of all sizes, and know what it takes to leave a penthouse looking spotless.
📦 Moving In/Out?
Whether you are moving in or out of your penthouse, we can meet your exact needs. Our aim is to make sure your penthouse always looks brand new. Whether your penthouse is owned or rented makes no difference to the quality of our work. Our only goal is to leave your place looking immaculate.
While there are plenty of cleaning services available in the Boston area, Onix is one that is locally owned and operated. We take pride in our ability to offer flexible scheduling, excellent customer service, affordable prices, and the highest standards of work.
While some of the other cleaning services take more of a one size fits all approach to cleaning, we ensure each client gets exactly what they are looking for. It is really important to us that we take your personal requests and the unique layout of your penthouse into consideration every time we clean your space.
✨ Onix Always Aspires to Reach the Highest Cleaning Standards
We have an uncompromising approach to cleaning. Whether we are cleaning a small apartment unit, or a luxurious penthouse, we always treat your space with the highest levels of dedication and respect.
We offer deep cleaning services that leave no stone unturned. While other cleaning services will take a more casual approach and only give your space a surface clean, we take care of everything and make sure often-neglected surfaces are given a thorough cleaning.
Our entire cleaning team is made up of reliable, trustworthy professional cleaners that will clean your penthouse as if it was their own. All of our cleaning methods are performed without compromise and will be tailored to the unique needs of your particular penthouse apartment.
If your penthouse features tiled floors, we will make sure to clean them with the appropriate cleaning supplies so that they sparkle. If your space features hardwood flooring, we will respect the integrity of the wood and only use chemicals that will clean the surface without damaging it. This attention to detail and level of integrity is what ensures your penthouse will get the highest level of service possible.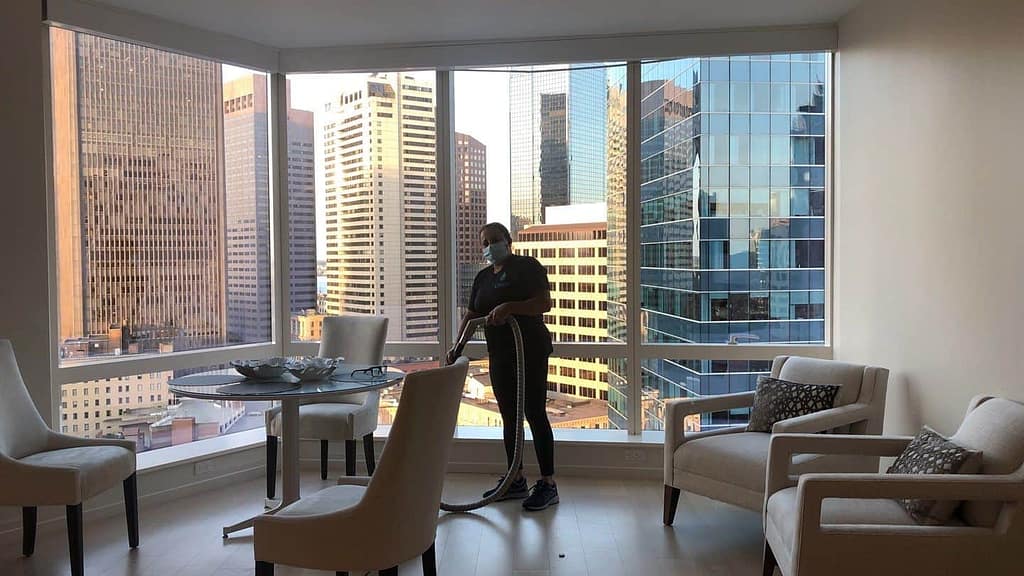 To ease the burden on the client, we make sure we provide all of our own cleaning supplies and cleaning tools for each job. We know storage space can be somewhat limited in an apartment, so we make sure you do not have to worry about stocking anything!
😊 Onix Always Provides Uncompromising Professionalism
We make sure that every single job we take on is completed to the highest possible standards. Your penthouse will be deep cleaned to our own high standards and each cleaning session will be completed on time.
We know it can be somewhat uncomfortable having people you do not know enter your penthouse apartment, so we make sure every single one of our employees has been thoroughly vetted. Each member of our cleaning team has undergone a thorough background check and extensive training to make sure they are the right people for the job.
Our team members take serious pride in their work and they can be trusted to respect and care for your penthouse as if it belonged to them. Onix Cleaning Services is fully bonded and insured, so you can rest assured that you are hiring a professional and reliable cleaning service that will not betray your trust.
🧼 Why Do You Need to Have Your Penthouse Professionally Cleaned?
If you are on the fence about hiring a cleaning service to take care of your penthouse, you should take the following into consideration:
Professional Cleaners Perform Deep Cleans
Our professional cleaners will never cut corners when it comes to cleaning your penthouse apartment. We will give your penthouse the deep clean it needs. It is easy to fall into the routine of only doing basic, surface-level cleans, which never really give your space that thorough cleaning and sanitizing it needs. By choosing professionals, you are ensuring that your penthouse always gets the thorough scrubbing required to have it looking its best. We will take care of those stubborn stains and built-up grime that could otherwise go ignored for years.
Our Cleaning Services Will Save You Time and Energy
By hiring Onix Cleaning Services, you can take back your valuable free time. You no longer have to worry about those annoying evening and weekend cleaning tasks. You can actually enjoy your free time, rather than wasting it performing menial cleaning chores. A thorough cleaning of your penthouse could eat up your entire weekend, so why not take your time back and let our professionals take care of the entire job for you. We work around your schedule, so you can come home to a clean space and use your time the way you want to. If you are a working professional, you probably do not have much extra time for housekeeping chores, so why not let us take care of all of that for you?
Your Apartment Will Always Get Cleaned Properly
With Onix Cleaning Services, your apartment will always be cleaned to the same high standards. We know how it is when you are tired from work and just want to relax, so you only do the bare minimum cleaning job. While you might have more energy for cleaning some days more than others, most of the time, you are just doing a quick cleaning job.
With Onix, there will be no difference between one clean and the next – your entire penthouse will be cleaned from top-to-bottom every single time. 
We Will Meet the Specific Cleaning Requirements of Your Penthouse
Whether you are moving out of your penthouse and do not have time to clean it properly, or just want occasional deep cleans to keep your space looking its best, Onix Cleaning Services can meet your exact needs.
We do not require minimum cleaning orders and will not force you into a particular cleaning package. Whatever cleaning services you need for your apartment, we can offer them! 
🏙️ Apartment Owners, Sellers, and Renters Can All Depend on Onix Cleaning Services
Onix Cleaning Services are the preferred cleaners for many realtors, homeowners, and renters in the Boston area. We earned this reputation through our professionalism, dependability, and courteous customer service.
Whether you are renting a penthouse apartment and just want a cleaner place to live, or you own the penthouse want to have your property professionally cleaned before and after it has been rented, we can get the job done. The entire process is designed to be quick and easy!
If you are planning on selling your penthouse condominium and want to make sure it looks its best for listing photographs and showings, a one-time deep clean can be just what you need. We specialize in reviving your interior spaces to make sure they are returned to their original appearance.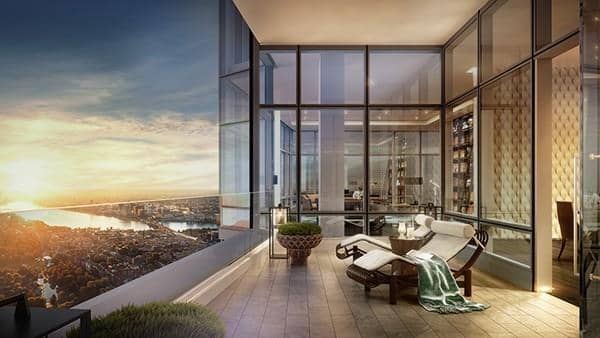 Our open house cleaning services could be exactly what you need to sell or rent your penthouse for top dollar! These services are also really handy for tenants that are about to move out of penthouse apartments. We make sure the penthouse looks just as clean as the day you moved in, which means you will not have to worry about losing your damage deposit because the place was left a mess.
📱 Book Our Penthouse Cleaning Services Today! 💻
Whether it is owned or rented, a thoroughly cleaned penthouse apartment is a sight to behold. We want to make sure you have that satisfying feeling every single time you walk through the door.
We have extensive experience with cleaning penthouse apartments throughout the entire Boston area. We have cleaned in some of the most luxurious buildings in Boston. From Midtown, Back Bay, Beacon Hill, South Boston, and Seaport Area.
😊 You can trust us to keep your penthouse looking immaculate. ✨
It is our mission to make sure your penthouse is always de-cluttered, cleaned, and organized. Take the frustration out of keeping your space clean and book with us today!
Book now and experience the difference Onix Cleaning Services can make for your penthouse apartment. You can book our professional cleaning services over the phone or online!