Kitchen Cleaning in Boston, Ma
🍽️ Boston Kitchen Cleaning Services
Many people consider the kitchen to be the focal point for the entire home. As the central hub of your living space, your kitchen deserves a thorough cleaning. If you are sick of dealing with those stubborn kitchen cleaning chores, we can help! At Onix Cleaning Services, we take great pride in being able to give all types of kitchens the deep clean they require.
👨‍👩‍👧 A Local Cleaning Company You Can Trust!​
Everyone has to eventually clean their kitchen. However, there are differing definitions of the word 'clean.' When we clean your kitchen, we leave no stone unturned. Where most people consider the job finished after a basic surface clean, we dig deep and make sure every surface has been thoroughly scrubbed and sanitized. After Onix Cleaning Services has gone over your kitchen, you will barely recognize it!
🧹 Residential Cleaning Company in Boston, Ma
Kitchen – We wash and sanitize the kitchen sink, faucet, and counter tops. We polish small appliances and move them forward to clean under them. We dust the kitchen cabinet fronts and backsplash as well as clean the front of the dishwasher, oven, outside, and top of the refrigerator. We clean the inside and outside of the microwave every visit. We also clean and degrease the range hood and stovetop.
✨ Best Kitchen Cleaning Service in Boston
Onix Cleaning Services can provide all types of cleaning services for your home. It doesn't matter whether you need us to clean your kitchen, bathroom, bedroom, living room or dining room. We can do it all.
🧼 Our kitchen cleanings shine brighter than any other!
When you hire house cleaning service from Onix Cleaning, you get a perfect cleaning for your house without any hassle. We hire and train our cleaners with the utmost integrity who love what they do, creating a trusting experience for our clients and staff alike.
☕ Kitchen Cleaning Services Near Me
No Contracts
Cancel Anytime
☑️ What Does a Kitchen Cleaning From Onix Involve? 
As mentioned above, we always make sure we deep clean every kitchen. If you are like most people, you probably feel like the job is done after the dishes have been cleared, counters wiped down, and the floors have been swept. Onix has a completely different approach to kitchen cleaning. Our kitchen cleaning services consist of the following:
🧁 Thorough Countertop Cleaning 
For starters, we will make sure all of your kitchen countertops have been thoroughly scrubbed and sanitized. Even if it is difficult to see with the naked eye, kitchen countertops can be some of the least sanitary surfaces in your entire home. This is because most of our cooking prep work takes place on our countertops. When you prepare raw meat and other food items on or above your kitchen countertops, you risk turning these surfaces into contaminated areas. In addition to being sticky and gross, food residue can lead to sickness and infection if it has not been properly cleaned up.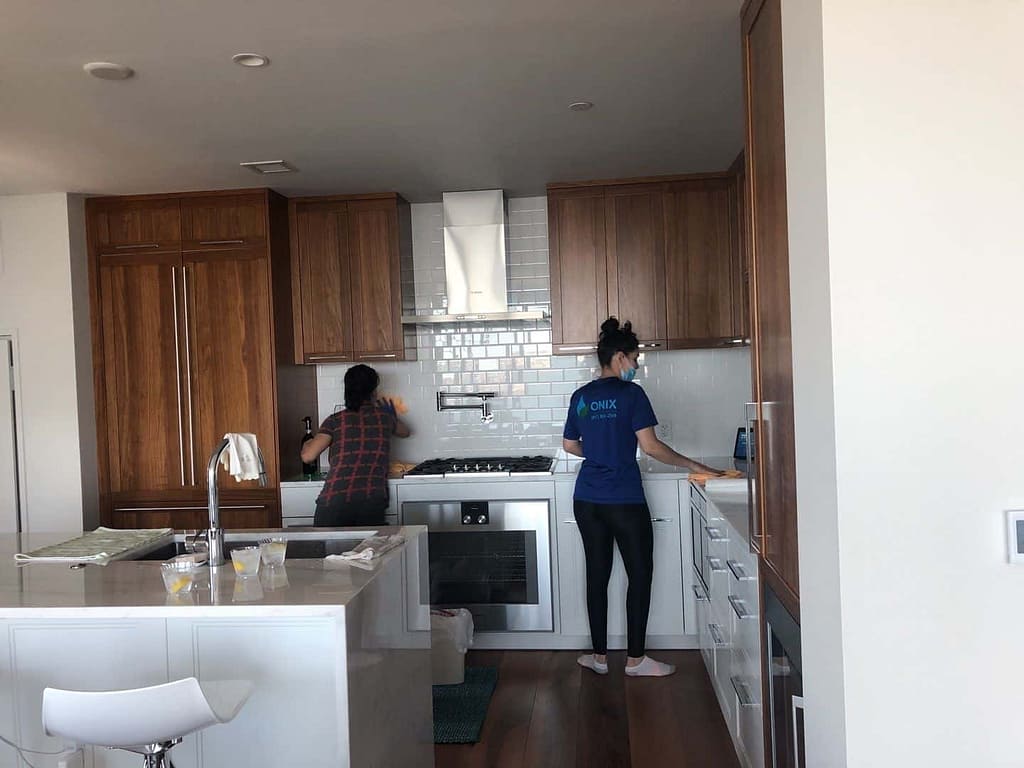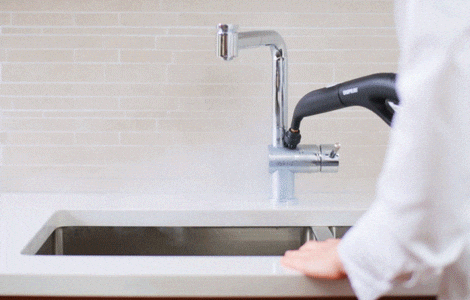 🦠 Sanitary & Safe
This is why we first make sure your counters are thoroughly scrubbed. From there, we sanitize every surface. It is completely necessary that we clean your countertops in this exact order. If a surface is not cleaned first, dirt, grime, dust, and other debris can form a barrier between the countertop and the sanitizing solution.
We always aim to return the original luster and shine to your kitchen countertops so they are as eye catching as the day they were installed. Not only will your kitchen countertops be sanitary and safe, they will look as good as new.
🍳 Kitchen Appliance Cleaning 
After we have taken care of your countertops, we will tackle the most frustrating chore involved in cleaning a kitchen – cleaning all of your major kitchen appliances.
We will properly scrub the surface of your stove. We will also make sure all of your drip pans, kitchen hoods, and splash guards have been thoroughly cleaned. If you have ever tried to give your oven a thorough cleaning, you will know just how frustrating and time-consuming the task can be. This is because all of those spills and splashes become cooked onto the surface of your oven over time.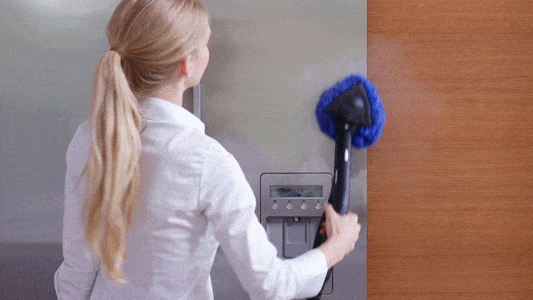 Do not worry, we can handle even the most stubborn burnt-on stains! We will also clean the top, front, and sides of your refrigerator. And, we'll polish up the exterior surface of your dishwasher and clean your microwave on the inside and outside.
We also make sure all of your countertop appliances look just as clean as the day you took them out of the box. This means your toaster, kettle, coffee maker, blender, and everything else will be scrubbed until they sparkle!
Again, we want your kitchen appliances to have the same brand-new look they had the first day they were purchased. Even stainless steel appliances, which are notoriously difficult to clean, will have that flawless shine and factory finish when we are done with them.
🥫 Kitchen Cabinets and Tiled Backsplashes 
Our professional cleaners will make sure your kitchen cabinets look as good as new. If you have ever spent hours meticulously cleaning your kitchen only to find it did not have that impressive clean look you were hoping for, there is a good chance it was because your cabinetry did not get cleaned properly. You will be amazed how big of a difference clean kitchen cabinet doors and handles will make to the overall appearance of your kitchen.
Our trained professional cleaners know how to make your kitchen cabinets shine. We will also make sure we do not use harsh chemical cleaning agents that could damage the integrity of the wood and paint.
Our cleaners will then make sure they attend to the difficult task of scrubbing your tiled kitchen backsplash. As the name suggests, kitchen backsplashes are designed to withstand splashes and splatters that occur when you cook food. While they may not look too dirty from a distance, when you get up close you will notice just how filthy they are. This is why we thoroughly clean every kitchen tile and even scrub the grouting in between them.
🧽 Kitchen Floors 
No matter what type of flooring your kitchen has, we will use the right cleaning products and techniques to make it shine. Kitchen floors withstand spills, crumbs, and all sorts of mess. This is why we make sure we sweep every square inch of your kitchen floor before giving it a thorough scrub with a mop.
👍 Finishing Touches 
What separates Onix Cleaning Services from other cleaners is our attention to detail. We make sure every single bit of your kitchen has been scrubbed, sanitized, and polished so that it looks just like a showroom kitchen.  We will move your appliances forward so we can remove all those pesky food crumbs and dust bunnies that fall behind and underneath them. All of these food debris can sit unnoticed for years, making your kitchen less sanitary and more attractive to unwanted pests.
Our talented cleaning staff will roll up their sleeves and make sure your entire kitchen looks flawless. This means polishing faucets, cleaning between appliances, wiping down light switches, and cleaning just about every surface you can think of. When you choose Onix, you are choosing the highest standard of cleanliness for your kitchen! 
💻 Book The Best Kitchen Cleaning Service in Boston, Ma! 
👨‍👩‍👧 Onix - A Local Cleaning Company You Can Trust!
🧹 We Offer All Types of Cleaning Services
Onix Cleaning Services can provide all types of cleaning services for your home. It does not matter whether you need us to clean your kitchen, bathroom, bedroom, living room, or dining room. We can do it all.
Our cleanings will shine brighter than what you would get from any other cleaning company! When you hire house cleaning services from Onix, you know you are going to get a perfect cleaning for your house without any hassle. We hire and train our cleaners with the utmost integrity, and make sure they are people who love what they do. This passion for excellent service and producing immaculately cleaned homes is why you should always turn to Onix Cleaning Services for all of your cleaning needs.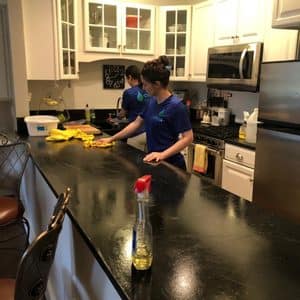 If you dream of walking into an immaculately cleaned home, without having to worry about the time and effort it takes to clean it, Onix Cleaning Services is ready to help you.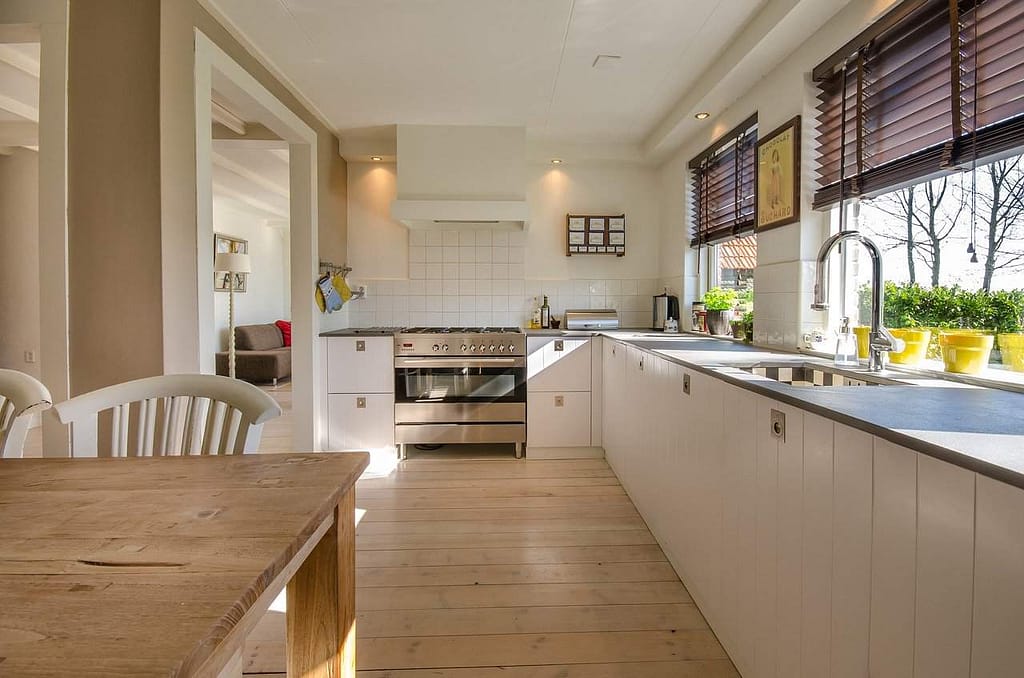 ✨ Let us transform your kitchen and home into a spotless place!
With uniquely tailored cleaning services, we can provide you with an outstanding level of cleanliness at an affordable price. If you live anywhere in Boston, Ma or the surrounding area, give us a call! We would be happy to work with you to find a cleaning package that works for you.
We can also help with staging kitchens and entire homes for retail listings. Clean homes will be more attractive to prospective buyers, so why take chances when you can hire Onix to give your space a professional level of cleanliness.
🥰 Enjoy the benefits of a spotless and organized kitchen.
It does not matter if your kitchen is inside a house, apartment, condo, office building, or anywhere else. We know kitchens, and we know how to clean them the right way!
Whether you own, rent, or you are planning to sell, we will clean your kitchen with the highest level of respect and care. Professionalism is always important to us, so you can count on timely cleaning appointments. We will always show up on time and take care of every cleaning task with a professional level of effort.
📱 Call Onix Today!
Booking with Onix is a breeze! You can schedule a cleaning for whatever time and date works best for you. Best of all, it only takes minutes! Our friendly customer service team will be happy to go over any questions or concerns you may have. We will always make sure you get exactly what you are looking for.
Remember, no matter what sort of kitchen you have, we will always treat it with the same level of respect and professionalism. We always take great pride in leaving every space de-cluttered, clean, and organized.
👨‍🍳 A clean kitchen will encourage you to cook more often at home. 👩‍🍳
🍹 You will also want to host friends and family for dinner and show off your spotless kitchen. 🥳