Dining & Living Room Cleaning
📺 Dining & Living Room Cleaning Cleaning in Boston, Ma​
We all spend a huge chunk of our time at home in our dining rooms and living rooms. When we are on our own, these are the places where we relax and unwind. When we invite guests into our house or apartment, the living room and dining room is where we welcome and host our friends and family.
Meticulous Cleaning Services in Boston Ma
Due to the fact that these are common areas where we spend lots of our time, it is no wonder that they are often cluttered and messy. If you want to get the most out of your living space and be able to host guests with confidence, Onix Cleaning Services can help!
Not only do we offer expert house cleaning services that will allow you to enjoy the benefits of a spotless living room and dining room, we have a flexible schedule that will work around your needs.
Professionalism, Punctuality, Quality & Responsiveness - That's only with Onix Cleaning Services
Residential House Cleaning Services Near Me
Your home is more than just a house its your sanctuary. A space where you can relax, unwind, and spend time doing the things you love. That is why we have tailored our cleaning services for the variety of spaces we encounter.
🔍 Thoroughly Cleaning Services in Boston Ma
Your home is more than just a house its your sanctuary. A space where you can relax, unwind, and spend time doing the things you love. That is why we have tailored our cleaning services for the variety of spaces we encounter.
There is nothing like walking to a clean home! 
Nobody likes a messy home. In fact, multiple studies have determined that a messy living environment can drastically increase level of stress and anxiety.
Schedule with Onix Cleaning Services 

Your premier house cleaning services in Boston, Ma
🏆 Best House Cleaning Services in Boston Ma
No Contracts
Cancel Anytime
✨ What Do Onix Living Room and Dining Room Cleaning Services Involve?
Our cleaning service starts from top to bottom, covering every square foot of your residence. This means no surface or object in the room is left unclean. Our deep cleaning techniques go well beyond the results you would get from a basic surface clean.
Our cleaning process begins by cleaning any cobwebs, dust, and grime that might have built up in the corners of your ceilings. We make sure all light fixtures and ceiling fans are thoroughly cleaned and dusted. We clean hardwood floors in areas with a lot of foot traffic. Our professional cleaner teams will make sure all of your blinds and windowsills have been properly dusted and scrubbed.
We also make sure to use appropriate cleaning techniques to make sure all of your interior window glass has a crystal clear shine that is completely free of streaks and water spots.
📺 Living Room Cleaning Routine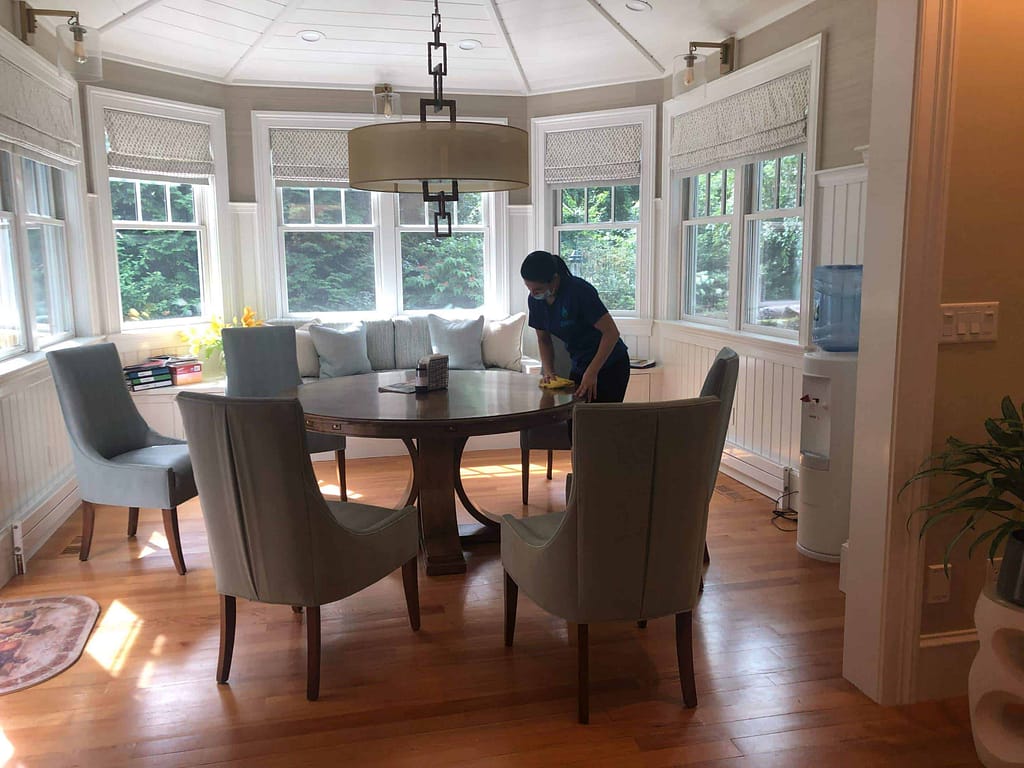 In living rooms, we make sure your entire entertainment system has been thoroughly dusted. We know how sensitive electronics are, so we only use appropriate cleaning supplies and techniques. All of that dust and dirt that builds up behind your entertainment center will be removed. Once your television and other entertainment devices have been cleared of dust and debris, we will move on to giving your coffee table the thorough cleaning it deserves.
Coffee tables withstand spills, drink rings, crumbs, dust, dirt, and just about everything else. Even if they do not look too bad to the naked eye, take our word for it, your coffee table needs a good scrubbing! We will vigorously clean your coffee table until some of its original shine has returned. Remember how fresh and clean your coffee table looked when you first purchased it? It is our goal to return it to that original condition. Any side tables and shelving units you have in your living room will be given the same high-quality cleaning treatment.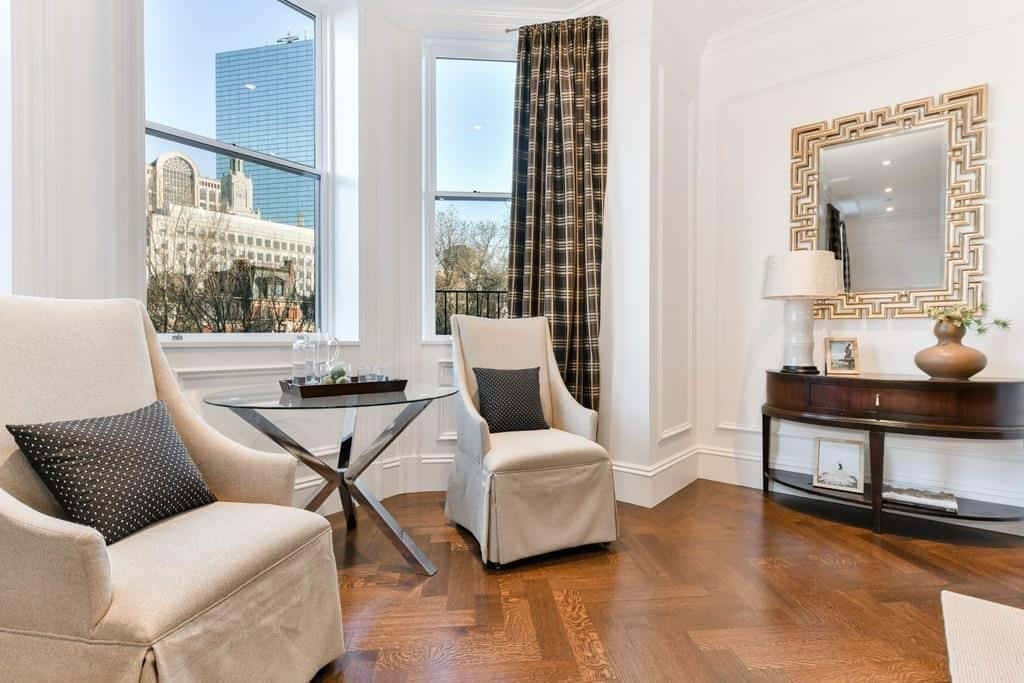 We will also make sure to pay attention to all of the little details. This means cleaning and dusting photograph frames, dusting baseboards, decorative knickknacks, house plants, and anything else in your living room.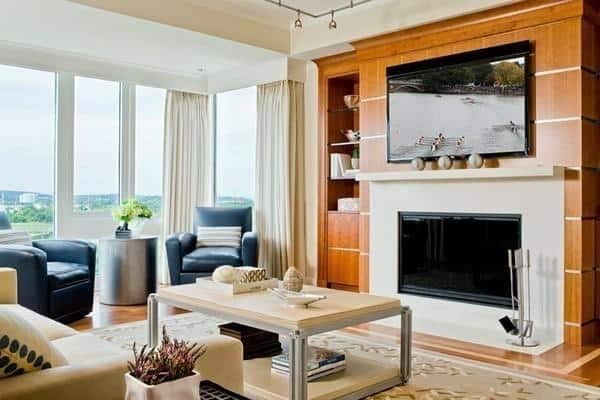 After carefully dusting and cleaning the entire room, our talented staff will then remove all of your furniture cushions and carefully vacuum away and dirt and crumbs that have fallen between the cracks of your furniture. We will do everything we can to remove cushion stains on your couches and chairs!
The floors will also be given an appropriate and thorough cleaning. Whether you have carpet or hard wood floors, we will make sure that the job is completed to the highest standards. Dust and dirt that builds up underneath furniture will be removed and the entire surface of your floor will be thoroughly vacuumed, swept, mopped, or hand washed.
🍽️ Dining Room Cleaning Routine
Dining rooms tend to be special places in our homes. They are where we host friends and family, so it is important that they are warm and inviting places. One of the easiest ways to make sure your guests feel comfortable in your dining room is to make sure the entire space is spotless. A cleanroom shows your guests that you appreciate and respect their company.
Just as with living rooms, every surface in your dining room will be thoroughly dusted and cleaned. All of your china cabinets, side tables, and running boards will be dusted and washed with appropriate techniques. We will also make sure all of your wall décor and other amenities have been properly dusted and cleaned. Framed art, photographs, and clocks will look just as nice as the day you put them up.
Chairs will be vacuumed and any stains will be removed. Your dining room table is the showpiece of the entire room, so we will do everything we can to make it as eye-catching as possible. Wood tables and hardwood floors are particularly susceptible to damage when they are improperly cleaned, so we make sure every cleaner on our team has been trained on the right way to clean a dining room table and flooring without damaging the integrity of the wood.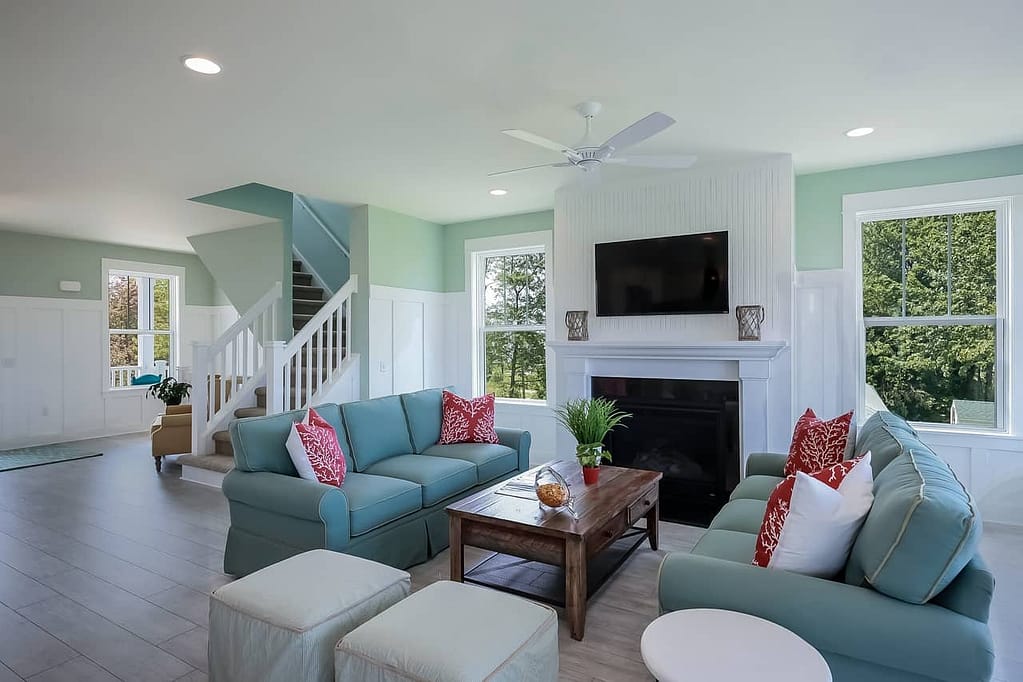 ✅ What Do We Clean? 
Our main goal is to clean everything in your living room and dining room. We always aim for a full-room clean and make sure no stone is left unturned. Without question, we will always clean the following:
Blinds and curtains
Entertainment units (televisions, DVD and Blu ray players, etc.)
End and side tables
Couches and armchairs
Window sills
Shelving units
Coffee tables
Dining room tables and surrounding dining chairs
Mantels
Floors
Artwork, decorative pieces, photographs, house plants, and other knickknacks
And much more! (If you have any questions or concerns about the cleaning any particular item in your living room or dining room, just let us know!)
🧽 What is Deep Cleaning and What Does it Involve? 
Deep cleaning is the highest standard of cleaning you can do. It involves going beyond the basic cleaning tasks and really giving every surface that thorough scrubbing that makes sure it shines.
De-cluttering – We rid your rooms of dust-collecting clutter. This will make sure your living room and dining room have a more organized look and feel to them. No more untidy piles of magazines or unorganized old DVDs.
Dusting – Dust is not just unsightly, it can actually impact the quality of the air you breath. We will make sure to properly remove all of that annoying dust from every surface in your living room and dining room. This includes all of those hard to reach places and spots you might otherwise forget about, such as dust buildup along your crown molding and walls.
Polishing – We always aim to return the original shine to your displayed silverware and china. Everything will look just as good as the day you brought it home. Fingerprints and general grime can cause so many items in our home to look dull and faded. We take the time to properly clean everything until your rooms look their absolute best.
Washing and Vacuuming Floors – We move your furniture out of the way so we can clean underneath and behind it. It is important to us that we remove all of the dust and debris that can settle on your floors and in your carpets. We also know how hardwood flooring can fade after years of being walked on, so we wash them with care until the wood looks the way it should. 
📱 Call Onix Cleaning Services and Enjoy the Benefits of Meticulously Clean Living Room and Dining Room
🏠 Your home is more than just a house; it is your sanctuary.
A space where you can relax, unwind, and spend time doing the things you love. That is why we have tailored our cleaning services to meet the exact needs of every space we encounter.
If you live in Boston, Ma, or the surrounding area, call today and discover the benefits of Onix Cleaning Services. Our services are available 24 hours a day, 7 days a week. Not only that, booking could not be easier. You can book over the phone or online and have a cleaning scheduled before you know it.
📅 Our cleaning teams want to work around your schedule. 
Whenever you need us to clean, we will be there. We also operate without contracts, so even if you just want to give your space a one time clean, we can do so without any further commitments.
💰 Onix is dedicated to affordable prices and exceptional customer service.
Our rates are completely transparent and we will never try to hide our prices behind hidden fees or surcharges. What you see is what you will pay! However, if you do want to schedule regular cleaning services, we offer discounted rates for repeat cleanings. Remember, we always reward repeat clients with lower prices!
We know it can be a little bit uncomfortable inviting strangers into your home for the first time, which is why every member of our cleaning staff has been thoroughly vetted and properly trained. You can always trust Onix Cleaning Services to respect you and your home. 
🥰 There is Nothing Like Walking Into a Clean Home! 
Studies have how detrimental a messy and disorganized space can be to our mental health. Remove the stress and anxiety that come from a messy house and enjoy the benefits of cleanliness today!
Call Onix Cleaning today!